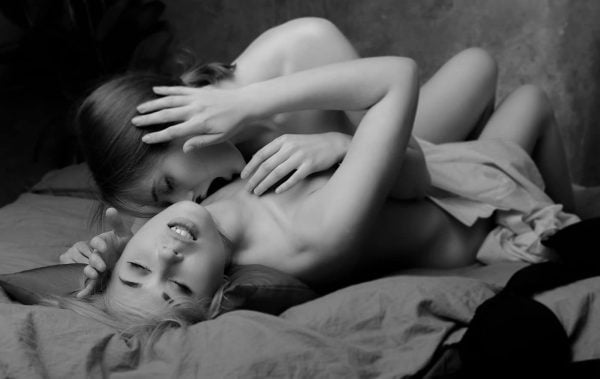 Have you ever heard of the term fauxgasm? Urban Dictionary describes it as The fake orgasm that women often resort to in order to (a) make their significant other feel like more of a man, or (b) speed up the process of unpleasant intercourse. Ring a bell?
Fauxgasms are in abundance. Does it boil down to the crappy sex ed we got in school (because they really just taught us how to put a condom on), or the porn industry that tries to make us believe that hardcore penetrative sex is the only way to the big O?
If you own a vagina, less than 19% of you can climax through penetrative sex alone. Owners of penises also like different rhythms, patterns, and strokes. We end up thinking that our bodies are broken, and so end up faking orgasm to avoid hurting our partner's feelings.
In the study Women's Sexual Satisfaction, Communication, and Reasons for (No Longer) Faking Orgasm: Findings from a U.S. Probability Sample1 researchers concluded that 'women who continued to fake orgasms were more likely to indicate embarrassment talking about sex with their partner in explicit ways and were less likely to agree that they and their partner are able to talk specifically about what makes sex more pleasurable for them. More than half (55.4%) of women reported they had wanted to communicate with a partner regarding sex but decided not to; the most common reasons were not wanting to hurt a partner's feelings (42.4%), not feeling comfortable going into detail (40.2%), and embarrassment (37.7%). Greater self-reported sexual satisfaction was associated with more comfortable sexual communication'.
Faking the big O in the long run can lead to bitterness towards your partner and can widen the disconnect between you. It will also hold you back from exploring those things that can actually help you reach an orgasm.
It really feels good if your partner feels good, but if your vagina has social anxiety, it is time to open up to your partner and communicate what you need, or your orgasms will stay just a distant dream. Commit to not faking, and guide your partner's hands mouth, or honourable member. It is also a good idea to throw some sexy toys in the mix.
We won't judge you for faking it, but it is hard and complicated work, and also a pointless performance. Tell your partner that what worked in the old days doesn't work anymore, then get into new grooves and moves and explore some playtime fun!
References
1 Herbenick D, Eastman-Mueller H, Fu TC, Dodge B, Ponander K, Sanders SA. Women's Sexual Satisfaction, Communication, and Reasons for (No Longer) Faking Orgasm: Findings from a U.S. Probability Sample. Arch Sex Behav. 2019;48(8):2461-2472. doi:10.1007/s10508-019-01493-0